"Take what they have left and what they have taught you with their dying and keep it your own. And in that time when men decide and feel safe to call war insane, take one moment to embrace those gentle heroes you left behind."
─ U.S. Army Major Michael O'Donnell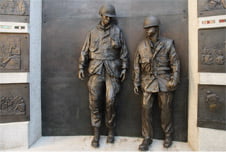 Major O'Donnell wrote these moving lines while serving in Vietnam. His thoughts express the deep feelings embodied in the Vietnam Veterans Memorial, a tribute to the 350,000 Californians who served in Vietnam.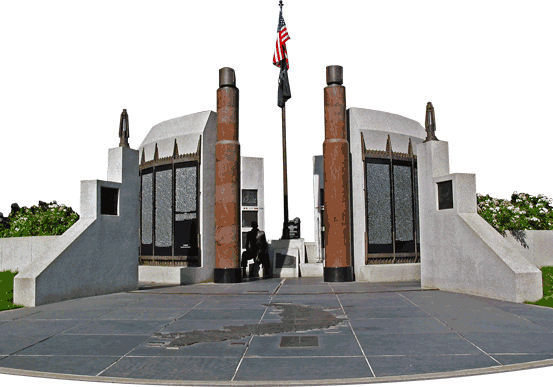 The memorial, dedicated in 1988, is a personal reflection on daily life during the war. Its series of rings symbolizes the circle of life. The outside ring is made up of 22 black granite panels engraved with the names of the 5,822 Californians who died in the war or are still missing. Each soldier is remembered with his or her first and last name, military branch and rank, hometown, and age.
The inner ring depicts life during the conflict. It features four life-sized bronze statues: a pair of men in combat, two exhausted friends, a prisoner of war, and a nurse tending to a wounded soldier. This is the first memorial to recognize the contributions of the 15,000 nurses and doctors who served in Vietnam.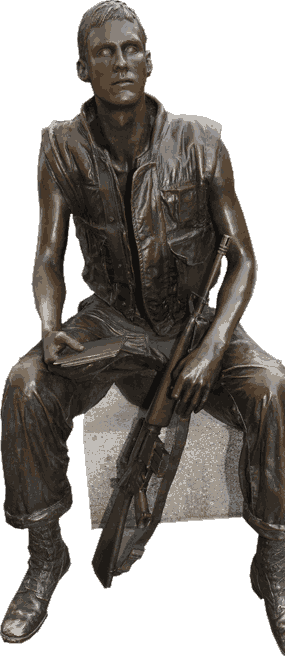 In the center of the inner ring, another bronze statue depicts a nineteen-year-old combat soldier. He rests on his helmet, holding an M16 rifle and reading a letter from home.
"He had one of those faces…all the youth sucked out of the eyes, the color drawn from the skin, old white lips, you knew he wouldn't wait for any of it to come back. Life had made him old, he'd live it out old… How do you feel when a nineteen-year-old kid tells you, from the bottom of his heart, that he's gotten too old for this kind of ____?"
– Michael Herr, Vietnam war correspondent 
The memorial means many things to many people and, as such, is the most visited monument in the park. Some come seeking the engraved name of a loved one. Others come to reflect on a period in history when so many young soldiers lost their lives. Some leave photographs, poems, and flowers for fallen heroes.