General Info
General Info

Accessibility & Assistance

Gift Shop & Food

Visitor Security

Events & Special Permits

Volunteer Info
Building Hours
Weekdays 7:30 am - 6 pm
Weekends 9 am - 5 pm
On weekends enter through the N Street entrance Admission is free
Closed Thanksgiving, Christmas, and New Year's Day
School and Group Tours
Free guided school and group tours are by reservation only for groups from 10 to 35 people. We recommend a ratio of ten students to one adult chaperone.
Contact ReserveAmerica for your reservation at (866) 240-4655. For additional school or group tour information, educational materials, and group rules contact the Tour Office at (916) 324-0333.
Public Tours
Public tours are conducted daily on the hour from 9 am to 4 pm. For tour information contact the Tour Office at (916) 324-0333.
Tour Office
Located in basement Room B-27
9 am - 5 pm daily
(916) 324-0333
Basement Theater
Films are shown daily
9 am - 5 pm daily
Admission is free
Wheelchair access
The North (L Street) and South (N Street) Annex entrances have wheelchair ramps just inside the entrance. Sidewalks leading to the Capitol are wheelchair accessible. Wheelchairs can be checked out for use in the building at the Capitol Museum's Tour Office (room B-27).
Elevators are available throughout the Capitol. In the Annex, elevators can be found across from the Governor's Office. In the historic part of the Capitol, the elevators are located on either side of the rotunda.
Restrooms are located in the north/south hallway on the first floor annex, on either side of the rotunda in the historic side of the building, and in additional areas on the various floors of the annex. Bathrooms are wheelchair accessible.
Assistive Listening Devices
Assistive listening devices are available at the Capitol Museum's Tour Office (room B-27).
Gift Shop
Unique gifts and items related to California and the State Capitol, located in basement
Monday – Friday 9:30 am - 4 pm
Weekends 10:30 am - 4 pm
Food Service
Cafeteria-style restaurants
Located in basement and on the sixth floor
Monday – Friday 7:30 am - 4 pm
Closed weekends
Coffee Cart
Located in basement
Monday – Friday 7:30 am - 4 pm
Closed weekends
ATMs and Vending Machines
Available during operating hours
Located in basement next to cafeteria seating area
Public Parking
Garage
Daily and hourly charges
10th and L Streets
Metered parking
Located on all sides of the Capitol Building and surrounding areas
The State Capitol museum, building and grounds are part of a working government facility and under the jurisdiction of the California Highway Patrol (CHP). As such, security measures are in place to protect state officials, employees, and visitors alike. Visitors entering the Capitol building will subject to security-control measures and checks which include, but are not limited to:
Passing through a metal detector
X-ray and visual examination of all packages
Presentation of positive identification
Prohibited Items List
Applies to all public visitors, staff-led and member-led tours.
Item

Aerosol containers

no

no

Any battery-operated electronic device
Medical devices are permitted

yes

no

Any pointed object (i.e., knitting needles, letter openers, etc.)


Pens and pencils are permitted

no

no

Any bag larger than 14 inches wide x 13 inches high x 4 inches deep
A visitor with a verified meeting or appointment inside the Capitol (i.e., official business visitors), may exceed the standard maximum specified bag size if the item is necessary to conduct their business. CHP discretion shall be used in each case, with all bags subject to thorough search and security screening.

no

no

Cameras 
Both in and out of session

yes

no

Cans and bottles

no

no

Creams, lotions, or perfumes
Both in and out of session

yes

no

Electric stun guns, martial arts weapons or devices

no

no

Food or beverages of any kind
Except in designated areas

no

no

Guns, replica guns, ammunition, and fireworks

no

no

Knives of any size

no

no

Mace and pepper spray

no

no

Non-aerosol spray
Prescriptions for medical needs are permitted 

no

no

Drugs or narcotics
Prescriptions for medical needs are permitted

no

no

Pets or animals
Guide and Assistance animals are permitted

no

no

Razors and box cutters

no

no

Strollers

yes

no

Video recorders or any type of recording device

yes

no
Events on the Capitol grounds, such as weddings, large gatherings, rallies, and special events, require a permit. The Department of the California Highway Patrol (CHP) is responsible for issuing the permits. There is no cost for obtaining a permit and permits will be issued on a first come, first serve basis. The CHP does not provide any equipment for the events. Processing permits generally takes three to five business days, but may take up to 10 business days.
If you or your organization want to submit an application, check the permit calendar, view planned events, see a map of the Capitol grounds, or see the rules of the State Capitol grounds, go to capitolpermits.chp.ca.gov.
Volunteer Assignments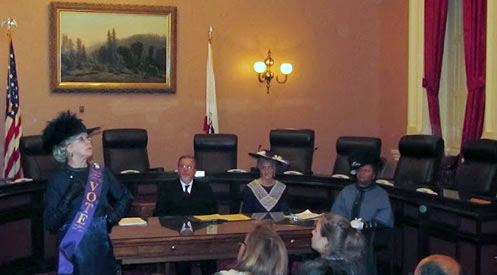 Participate in Special Events
Volunteers can participate special "Living History" events throughout the year. These events are an opportunity for volunteers to play out a vital part of history while wearing period appropriate costumes. Volunteers can greet, educate, or entertain visitors. Some volunteers may choose to help with the event set-up, assist with food for participants, or even contribute to the clean-up afterwards.For information on becoming a State Capitol Museum Volunteer please contact Rachel Martinez at (916) 324-0319 or This email address is being protected from spambots. You need JavaScript enabled to view it..
Historic Museum Room Tour Backup
Working in conjunction with a Guide (Docent or Staff) the Backup follows the public tours through the Capitol Museum Rooms. The Backup also turns off and on alarms, monitors tour groups, ensures the safety and security for the visitors, historic rooms, and the irreplaceable artifacts. Backups may have the opportunity to wear period dress while doing this assignment.
Historic Museum Room Interpreting Docent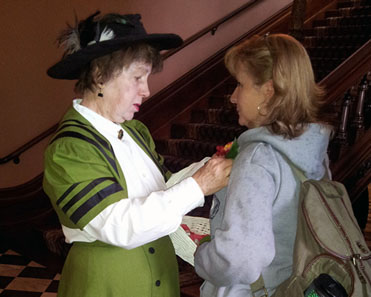 Stationed in front of each of the historic museum rooms, these docents greet the visitors; interpret the room's contents, and explain its historical significance in relation to the Capitol and California's government circa 1900-1910. This is an opportunity to wear period clothing and requires some additional mentoring.
Active Status
You must volunteer at least 84 hours a year to be considered an active volunteer.
Benefits:
36 hours of free training on the California State Capitol's history and architecture and California government.
State Parks Volunteer badge upon graduation of the course.
A Parks pass providing free admittance to State Parks in the Capital District after 84 hours of volunteer work. To maintain the District Pass, volunteers are required to work 84 hours a year.
A pass providing free admittance to ALL State Parks after 200 hours of volunteer work per year.
Periodically you will be awarded volunteer hour pins and honored at the Volunteer Appreciation Dinner.
Additional benefits for State Capitol Museum Volunteer Association (CSCMVA) Members.
If you choose to become a member of the California State Capitol Museum Volunteer Association (CSCMVA), membership is for the first year and as an active member volunteering 72 hours per year (six hours a month).
Volunteer association benefits include:
Discounts on your parking costs or free light rail or bus tickets for transportation to volunteer work.
A discount at the State Capitol Bookstore and free admittance to the annual appreciation dinner.
A monthly newsletter.
Social activities and field trips.
It is not necessary to join the CSCMVA to volunteer at the State Capitol Museum.
Volunteer applications can be found by clicking here.