Architecture & History
Architectural Virtual Tour

Capitol History Virtual Tour

Historic Rooms
A common feature found in many state capitols, including California's, is a portico opening into a central rotunda that rises into a dome. This architectural convention, borrowed from the Romans, creates an inspiring and majestic entrance. The central dome is buttressed by offices, some of which have been restored to their original grandeur. Rows of Corinthian columns draw the eye ever upward to the Capitol's golden crown. Rather than topping the Capitol with a statue as was done with other capitols, the California State Capitol is ornamented with a gold-plated copper ball reminiscent of California's Gold Rush history. Learn other interesting facts about the design of the capitol in this section.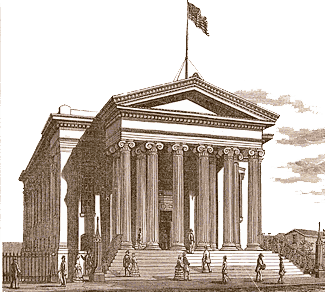 The history section details more than 150 years of the trials and tribulations of California's early statehood, a growing democracy searching for a foothold, and the ongoing battle for space to accommodate the state's growing need for leadership. Sacramento was not always the capital of California. Even when that city became the permanent capital, the capital was temporarily moved to San Francisco due to extensive flooding in Sacramento, causing one legislator to fear the Legislature would be known as "the changing, mudscow, steamboat moving, forever uncertain legislature of California."
With the completion of the Capitol in 1874, California was given a permanent home for its fledgling democracy. But as California grew larger, the Capitol seemed to shrink, and several expansions and renovations were necessary to keep up with the growth of government. By the 1970s, the building had been redecorated so many times it was hardly recognizable, and was in such bad shape, it was feared an earthquake would destroy it. So the decision had to be made: To demolish the seismically unfit Capitol and replace it with a modern, spacious building, or to retrofit the building against earthquakes and preserve an important part of California's history.

Some historic rooms that served former governors, secretaries of state, and treasurers are now preserved to show visitors what the offices looked like at the turn of the 20th century. These can be seen on the first floor of the west wing. Others, although they retain their historic look, are still used today by the leaders of the Legislature.
Both the Senate President pro Tempore's and the Speaker of the Assembly's offices are decorated with historic furniture and artwork. The architecture of the Senate and Assembly galleries, open to the public whenever the houses are in floor session, reflect an open form of government, inviting visitors to sit and observe the Legislature in action. The red of the Senate and green of the Assembly are borrowed from our centuries-old British parliamentary heritage.